About Portland Terminal
Zenith Energy operates a fuel storage facility in Northwest Portland, Oregon. While the site stores traditional petroleum products, it also stores renewable fuel and will increase renewable fuel capacity to meet demand.
65% of Portland residents believe the city should be a leader in the development and distribution of low-carbon renewable fuels.
Over time, Zenith Energy will transition the Portland terminal to replace all fossil fuel storage with renewable fuel, giving it enough capacity to fill 175,000 semi-trucks across the West Coast. Because renewable fuels emit 80% less carbon than traditional fossil fuels, this will help the Pacific Northwest quickly reduce carbon emissions.
Zenith Energy has invested $130 million in terminal improvements, including upgraded storage tanks, marine equipment that dramatically reduces emissions, fire suppression systems and enhanced training for employees, contractors and local first responders.
The Portland Terminal can receive, store, and deliver heavy and light petroleum products via Panamax sized vessels, railroad and truck loading rack. The Portland Terminal also offers heating systems, emulsions and an on-site product testing laboratory.
Downloads
---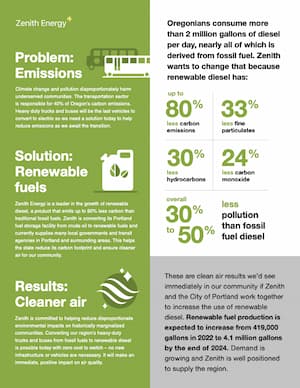 Learn more about how Zenith is leading Portland's renewable fuel transition.
Download PDF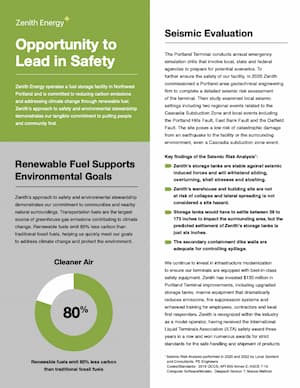 Learn more about Zenith's preparedness for a seismic event.
Download PDF
Supply / Delivery
---