Zenith Energy and INERATEC agree to work on commercial scale e-fuel plant in Amsterdam.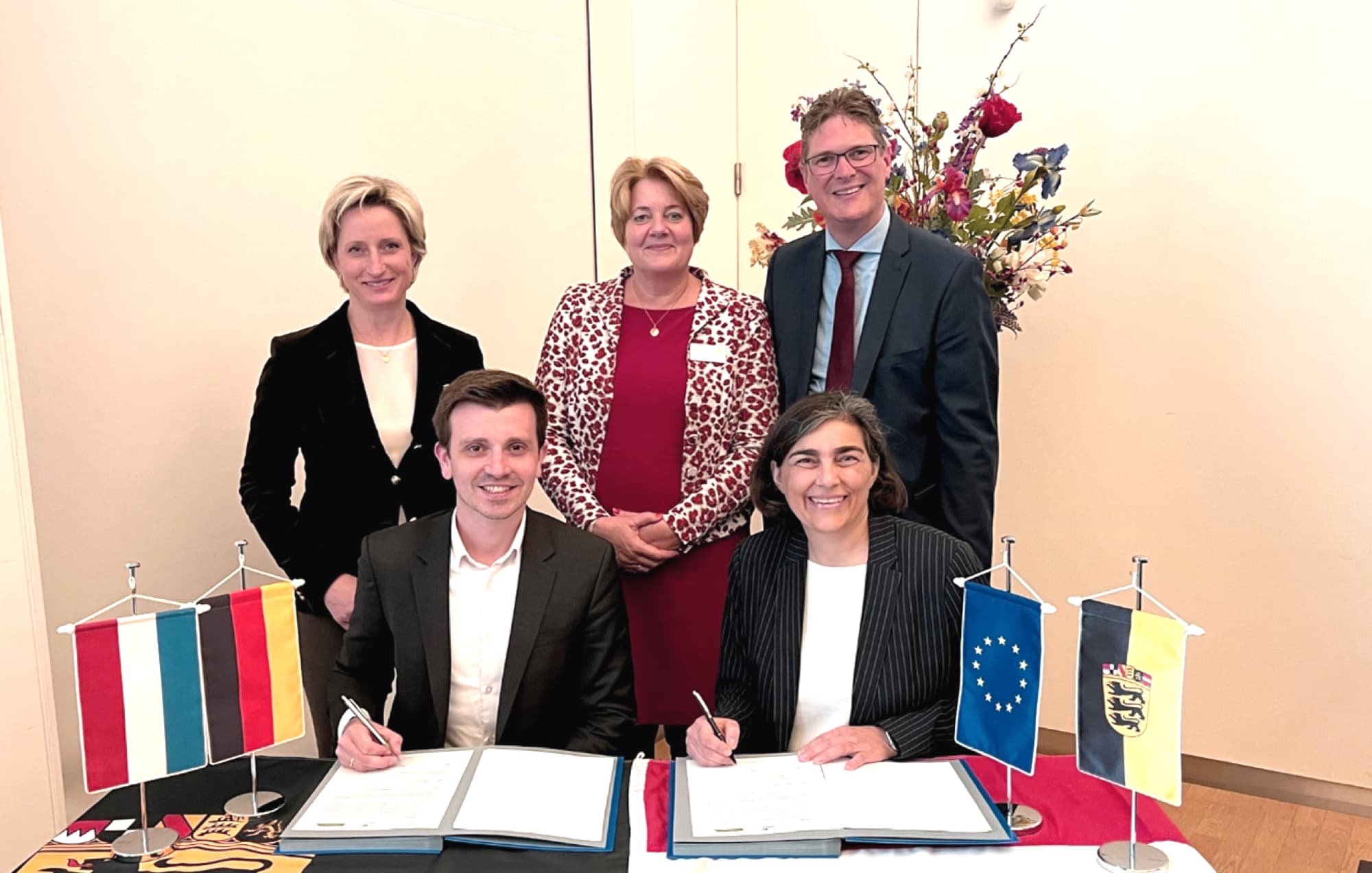 The partners aim to build a Power-to-Liquid plant with up to 35,000 T production capacity per year
INERATEC, as a leading provider of sustainable e-fuel solutions, has signed a Memorandum of Understanding with Zenith Energy Terminals to build a Power-to-Liquid (PtL) plant in the port of Amsterdam. The signing took place during a delegation trip to the Netherlands with the Minister of Economy of Baden-Wuerttemberg.
The PtL plant is planned to produce up to 35,000 tonnes of e-fuels per year, from locally generated and imported green hydrogen and up to 100,000 tonnes per year of CO2 which will be captured from Dutch industry and used as a key feedstock to the INERATEC process.
The sustainable e-fuels which INERATEC will produce in Amsterdam will contribute to the Dutch goal of achieving a circular economy and reducing greenhouse gas emissions. INERATEC plans to produce and refine e-fuels including sustainable kerosene, clean diesel and CO2-neutral gasoline, delivered directly to offtakers active in shipping, aviation and road transportation as early as 2027.
The port of Amsterdam, with its strategic location in Europe, was chosen as the preferred site for the plant, given its excellent location and access to key infrastructure. Port of Amsterdam has placed strategic emphasis on promoting responsible operations and circular economy principles, to further bolster its standing as a sustainable energy port. Backed by such efforts, the port of Amsterdam provides the perfect setting for an innovative plant installation. 
"This project is another step towards achieving our shared goal of creating a more sustainable future," said Philipp Engelkamp, CCO of INERATEC. "The combination of our competences will enable us to produce e-fuels on a large scale and make a significant contribution to reducing CO2 emissions. Not only at the production site, but worldwide."
"We are delighted to be working with INERATEC, providing them a springboard for their e-fuels production. Zenith Energy's Amsterdam Terminal is a perfect partner and we are pleased to offer INERATEC access to experienced energy handling operations, strong supply chains and key logistics" said Jeff Armstrong, CEO at Zenith Energy Terminals.
"Port of Amsterdam is very pleased with the plans presented by Zenith Energy Terminals and INERATEC," said Koen Overtoom, CEO of Port of Amsterdam. "This development aligns closely with our strategic ambitions and underlines the strong competitive position of the port of Amsterdam as a sustainable fuels-hub. Zenith and INERATEC are in the vanguard of development and we are keen to support such initiatives."
INERATEC
 INERATEC is a pioneer in the field of Power-to-Liquid applications. The company supplies sustainable fuels as well as chemical products. Modular chemical plants for power-to-X and gas-to-liquid applications use hydrogen from renewable electricity and greenhouse gases such as CO2 to produce e-kerosene, CO2-neutral gasoline, clean diesel or synthetic waxes, methanol or SNG. Founded in 2016, INERATEC has already implemented industrial-scale power-to-liquid plants at German sites to boost the availability of sustainable fuels and chemicals in various transport sectors such as aviation.
Further information can be found via www.ineratec.com
Zenith Energy Terminals
Zenith Energy Terminals is a world-class midstream company that owns and operates renewable fuels, crude oil, petroleum products, chemicals and gas storage across North American, Europe and Latin America. The Company's focus is on building a sustainable, independent, open access energy storage and service business that provides safe and reliable solutions for its customers in the years to come.